Description
Zircon: Software for managing weighing rooms
Zircon is a program for improving, assisting and monitoring activity in weighing rooms. The software connects to weighing systems and allows traceability up to a granular level. Users gain access to the program by authenticating with a username and password.
Settings screens
The program has many setup screens in which parameters are set during the initial installation but which can later be changed by customers to suit their differing needs. Changeable settings include: calibration frequency, markings and warnings for hazardous materials, minimum weights, permissible deviations, exceptional materials and more.
Select a command/batch to execute
In this screen, the user can choose which job/batch order they want to create from the list of jobs that are open and waiting to be executed. It can filter the work according to the materials required or according to the batch number.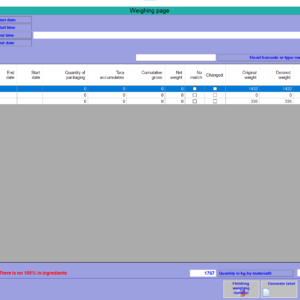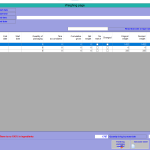 Selection screen for weighing
In this screen, employees can choose which units to weigh for the batch they're currently producing. The screen shows them all the raw material options they need to consider and allows them to select materials by reading codes on the products they want to weigh. By reading the barcode, they can verify that the raw material  they are weighing is the right one,
Weighing screen
In the weighing screen, the software recommends the scales to use. The operator can then open a new package (the weighing can be carried out on a number of packages and batches, all documented). The system makes sure that the weight is reset after weighing products and then presents the result. After performing the weighing, the operator enters a password to confirm the result and then can exit the screen to weigh the next package.
In accordance with the requirements of each client, a report is generated to document the equivalence (planning versus execution). Exceptional equivalence is highlighted and the information is shared with the customer's ERP system. You can set alerts based on a range of requirements and we'll be happy to discuss them with you during a meeting. The software contains so many options that we could never list them all here, but it's important to note that our systems can communicate with external organizational software, obtain production orders from them and report any actions that are taken.